What is a lead
The English term lead belongs to the field of Internet marketing (the so-called lead generation marketing).
Indicates a potential customer who has shown interest in services by responding to your advertisement. An example of a lead is if your customer clicks on your advertisement or is interested and subsequently contacts you. A lead can also be created by a recommendation from a partner company or even within one company, where one department forwards a potential customer to another for contacting.
Why I should monitor leads?
You can say to yourself, I always get leads in my email, or a colleague calls me to tell me to contact someone, so why still have it written in Mango?
It's simple. The whole thing can be automated so the leads go to Mango on their own, or secondary you can write the lead down there yourself.
Most importantly, however, you won't forget anything, and you can then view the statistics over a period of time:
- how many leads from which source you got
- what is the success rate of individual leads by source
- did I forget to contact a lead?
etc.
How can I get a lead into Mango?
Leads can reach Mango in several forms:
- manual entry (for example, a colleague at the call center enters a lead for a trader)
- from your website from the contact form (via API https://rest. crmango.com/documentation/CreateNewLead/detail )
- from your banner ad (via API)
- from your email campaign (via API)
- received email from a potential customer (email add-on to leads)
- from a potential customer's visit to your website (connection to the Leady.com application)
- and many other options (social networks, physical advertising banners with QR codes, etc.)
How to work with Leads in Mango?
Basic view of the leads section: Leads can be collected here from several sources:

In the case of display on a mobile phone, the so-called card display is automatically switched.
You can easily filter leads thanks to the quick filters:


You don't even need to open individual leads for simple editing... you can edit them directly from the table view:
Of course, each lead also has its own detail, where you can edit, assign, etc.
An interesting feature is that if you come across the name of a company or something from the contact website, after clicking on the green button with the label icon, Mango will check whether the given company is in Mango or not, and if not, then with one press of the button you can add the company to mango and assign it to the lead.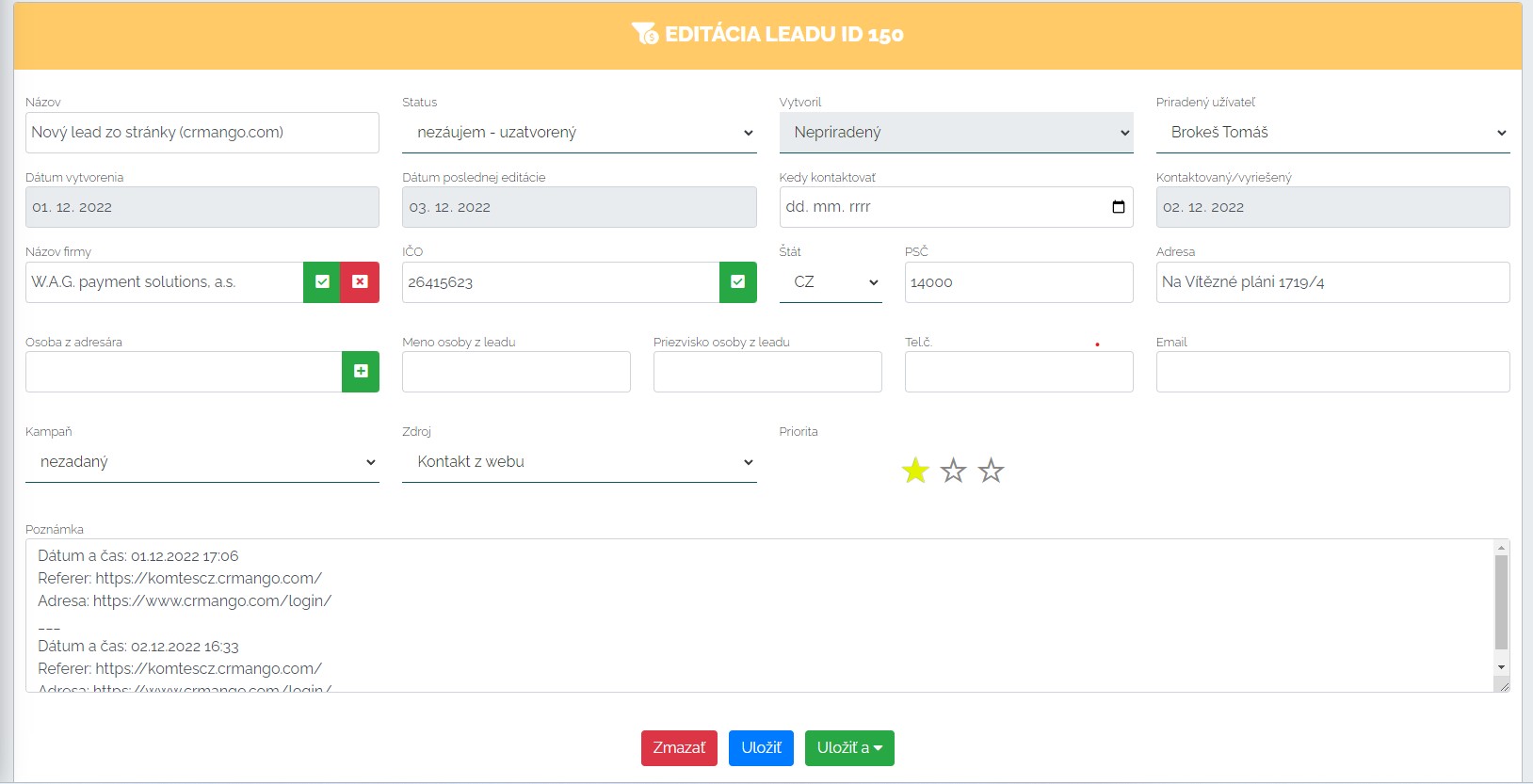 The function is also important, that after changing the status, the date when the lead was contacted also changes. This way you can find out if the people who were in charge of the given lead contacted him in time.
An interesting function is also the notification of the user that he has been assigned a lead :